Connexxion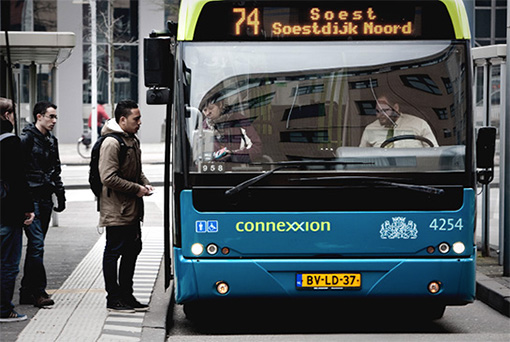 Connexxion Bus: How positively influencing drive style can unlock serious fuel and CO2 savings.
Connexxion is the largest bus operator in the Netherlands and more than 1.500 buses of various makes and models are connected live to Sycada's Green Fleet Mobitor. 5.000 drivers are getting feedback on their drive style daily and the results are staggering.
A difference in fuel efficiency in excess of 30%
Initial trials with the system showed a difference in fuel use of more than 30% between the best and the worst drivers on the same bus along the same route. That drive style had such a big impact on city transport was for everybody a big eye opener.
Annual savings in the million
The system is now in use for more than two years and fully embedded in the operation. Average fuel savings varies from one depot to the next but is often in excess of 10%.
Everyone is participating
Drivers are keen to optimize drive style as a large portion of the fuel savings flows back to the drivers. Everybody has become an active contributor to the realization fuel savings, improve safety and comfort of passengers, and, of course, to a greener and healthier climate.
Mindful driving at Connexxion Bus
Download the case study "Sycada gets the Netherlands moving smarter" or read more about the Green Fleet Monitor here!