Müller Fresh Food Logistics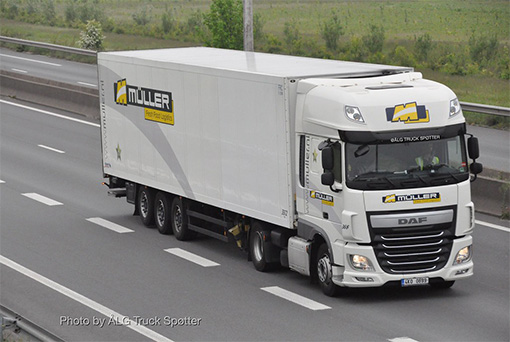 Müller Fresh Food Logistics is a leading specialist in logistics services for the perishable food industry.
Throughout Benelux and Germany, distribution centers of large fresh-food wholesalers and retailers are replenished on a daily basis by the temperature controlled trailers of Müller. A dedication to the highest quality- and hygiene standards forms the back-bone of Müller's service proposition to it's clients. To achieve complete visibility in the cool chain, all trailers of Müller have been equipped with Sycada's online temperature monitoring and GPS tracking solution.
The Sycada solution offers the following benefits:
Quality- and Operations Management of Müller have direct access to position and temperature data of individual shipments.
Operations can be alerted in case of cool chain problems and issues can be resolved before cargo is potentially compromised.
Service Levels can be reported to clients objective- ly and without administrative hassle, thus strengthening Müller's relentless strive to improve quality of operations.