No more empty batteries in public transport thanks to new algorithm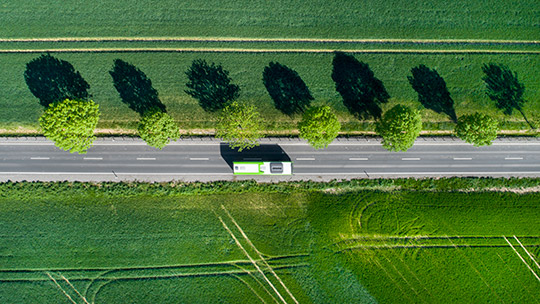 Energy usage is an important factor when bus operators plan public transport routes. When driving electric, a lot more environmental factors need to be taken into account. This makes the task of planning much more challenging than is the case with traditional driving. Therefore, most prediction models for energy usage operate with a margin of error of 18,5%. Using the new model we developed in collaboration with TU Eindhoven, this margin is only 1,2%! How did we manage that?
Environmental factors
Existing models merely base their predictions of remaining battery life, or State of Charge (SoC), on past data. In doing so, factors like the varying number of passengers, influencing the weight of the bus, and outside temperatures are not or barely considered. Of course, the latter directly affects energy usage through air-conditioning and ventilation of the bus. Since the previously mentioned margin of error could incidentally run as high as 40%, you will inevitably be faced with operational issues. Investing in more battery capacity or more buses is an option here, however, it's a very expensive one.
Realtime, dynamic route planning
In order to prevent having to make such an investment, we've developed a new algorithm that does take these environmental factors into account and constantly recalculates them. Thanks to the extremely accurate and real-time SoC predictions that kick in even after the first few feet of a route are driven, this has resulted in dynamic route planning. Because of this, operators are not only able to take action sooner but are also able to make decisions based on more solid data. On top of that, a lot of unnecessary capital- and operational expenditures can be prevented. To make sure the new model isn't just accurate but simple as well, only two parameters are required next to the chosen routes and corresponding characteristics.
'Vehicle mass value'
An offline algorithm makes a rough estimate of energy usage based on past data such as time, location, speed and various battery parameters. An online algorithm continuously corrects this initial prediction by recursively adjusting the so-called 'vehicle mass value.' In practice this means that possibly significant deviations from predictions used to plan a route, which may cause problems, can be detected earlier. Furthermore, thanks to insight gained in regards to vehicle mass value and environmental factors, it's a tool used to constantly improve tactical line- and charging schedules, This is great news for public transport companies due to their set routes and means of comparison to past data!
Read the entire e-motec article here.
Is your company about to transition to emission-free transport, or are you in the middle of this transition? Or would you simply like to know more about real-time, dynamic route planning? For instance, because your operational activities mainly take place in (future) environmental zones. Feel free to make an appointment with us to discuss the possibilities Cloud Your Bus can offer your company. Email your question to Christian van Essen at vanessen@sycada.com.