Research shows: realtime driving feedback works!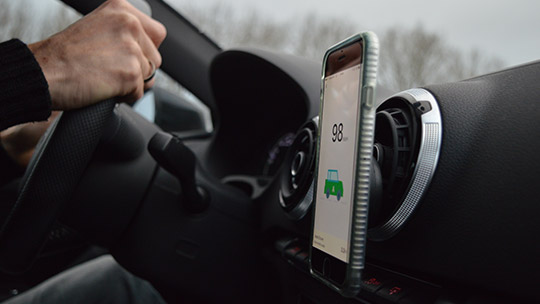 As of late, Sycada has been receiving a lot of attention, especially regarding the DriveTag. This attention ranges from specialist paper Fleet & Lease, VodafoneZiggo and BNR Radio to international tech-magazine E-Motec. The main question always being: how effective is real time feedback in changing driving behaviour? After previous successful DriveTag pilots with Mobilis (TBI) and VodafoneZiggo, to name a few, Terberg Business Lease Group and advisory- and engineering company Royal HaskoningDHV decided to put it to the test.
Tested effects of interventions on drivers
It's safe to say that we're not dealing with just any two companies conducting this research. Royal HaskoningDHV was founded in 1881, making them the oldest advisory bureau in the Netherlands, and they currently employ 4.000 people in 17 countries. Terberg Business Lease Group is one the Netherlands' biggest car leasing companies with around 50.000 vehicles on the road, putting them at number six in our country's Top-10 leasing companies. Over the course of several months they researched the effectiveness of five different interventions on drivers, dividing subjects over multiple groups. These groups respectively tested an online course on driving behaviour, an app that keeps mobile phones set to don't-disturb-mode, a weekly driving score, an app that showed real time speed and possible ticket amounts, and real time driving tips (our DriveTag).
Significant improvement
The research showed that interventions that provide direct feedback are generally most effective in stimulating safe driving and behavioural change.
Further analysis showed that only one group of subjects showed statistically significant improvement in driving behaviour. Naturally this was the DriveTag group! Using the feedback, drivers were able to better anticipate on traffic around them and noticed that they were driving in a more sustainable, safer manner. The participants did not feel distracted by receiving direct feedback while driving. Of course we were very happy with these results, not to mention proud! No statistically significant changes were found using the other methods.
Safer, more sustainable and cost efficient
Ultimately only one thing really matters, which is getting as many companies and organisations as possible equipped with DriveTag. In several cases, insurance companies are also joining in because they understand that, next to fuel- and emission savings, the number of accidents is also greatly reduced by using DriveTag. What's stopping your organisation from teaming up with us, like they have, to take on the challenge of improving employee safety while simultaneously significantly reducing costs and sparing the environment?
Would you like to know more about our solutions? Then make sure to read some of our previous blog posts about Mindful Driving, the DriveTag and more.