The clear and open road to Zero-Emission transportation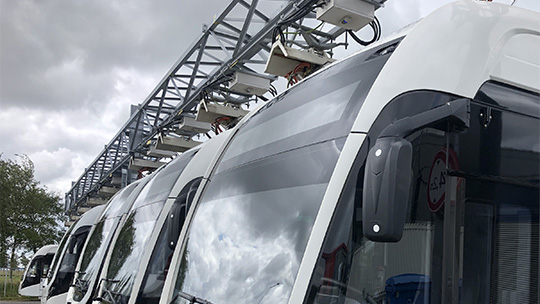 Three years ago Sycada, Owasys, Icron and TU/e put their heads together to create Cloud Your Bus (CYB), a dynamic-technological platform built to establish operational excellence in Zero-Emission public transport. Hundreds of ZE buses and charging stations have been made available through this new platform, millions of electrical miles have been traveled and an array of new tools have been developed. Now it's up to the entire European public transport sector to take a serious look at the operational possibilities, the costs and especially the savings ZE public transport has to offer.
A sizeable performance
Going from concept to implementation in just three years is really a very short timeframe. This goes to show that collaboration was the right way to go. Considering the complexity of this project, going solo was never really an option to begin with. For starters, tons of data needed to be collected from different types of vehicles that didn't all 'speak' the same language. This problem was solved by using a collective taxonomy for vehicle- and battery data. Next to live data from buses, transactional data from connected charging points needed to be made available to affiliated bus operators, manufacturers and infrastructural managers. The fact that this 'collaborative data hub' is now a reality, surely is an impressive achievement.
Data hub and algorithms
Whereas innovator Sycada took care of the telematics side of the equation, the Spanish Owasys, (very) simply put, delivered the necessary computing power in the form of wireless embedded computers. In short, Owasys developed an entire ITxPT-certified smart box for E-buses. ICRON on their part, display their expertise in creating the algorithms needed for routing- and loading schedules. These algorithms are fed live data from vehicles and charging stations, making it possible to adjust employment schedules in case battery life recedes at an unusually quick rate or in case charging defects are detected. Furthermore, the collaboration between Sycada and TU/e means it will now be possible to estimate a bus's battery state-of-charge at the end of a route or circulation with far greater accuracy. Therefore, these algorithms are extremely important to scenario planning.
Fewer buses, higher service levels
By planning in smarter or more dynamic ways, fewer 'back-up' buses are needed to guarantee adequate service levels. Furthermore, by actively coaching drivers to optimise their driving styles and energy efficiency, significantly more miles can be traveled on a full battery. This way, investments in a bus fleet within a specific concession (Capex) can be greatly reduced. These savings really add up, imagine needing 10% fewer buses to realise the Zero-Emission transition in European public transport (about 15.000 buses). This would add up to roughly 1 billion euros in savings! This, of course, is separate from the many additional savings that can be achieved by sharing information live with planning employees and, where necessary, with drivers.
Further into the future
In the near future we plan to add more partners with specific fields of expertise to the platform. Each of these will be 'connected specialists' that offer added value to the CYB ecosystem through their deeper technical knowledge and experience. For instance, think of diagnostics and preemptive battery maintenance or optimal use of flex capacity throughout the charging process in order to reduce energy costs. All of these services will be able to make use of the available sets of data.
Is your company also open to completely transitioning to Zero-Emission, or are you in the middle of this transition? It is entirely possible to implement the knowledge and experience gained by the CYB-consortium in different types of transportation enterprises. Does this pique your interest? Schedule an appointment with us to discuss the possibilities Cloud Your Bus can offer your company. Email any questions you may have to info@sycada.com.