The Mobility House and Sycada cooperate to significantly increase smart charging potential for fleets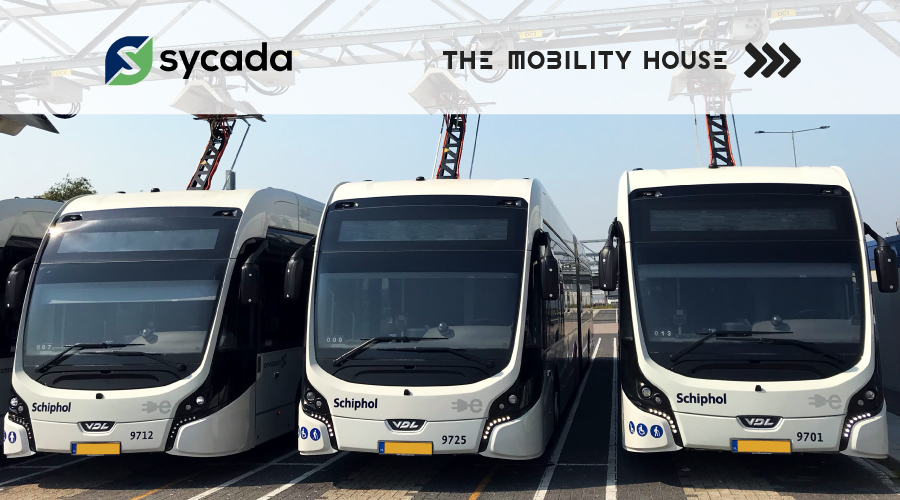 Leading zero emission innovators The Mobility House and Sycada cooperate to offer Smart Charging and Energy Management Systems for buses and trucks. Forces were joined while working for Dutch bus company Connexxion, a subsidiary of Transdev Netherlands, operating more than 2,000 electric buses worldwide
Munich/Amsterdam, April 27th: Leading smart charging provider The Mobility House today announced a new partnership with Sycada, the Netherlands-based zero emission telematics and fleet management company. With the intelligent Charging and Energy Management System ChargePilot The Mobility House enables customers and partners to intelligently control charging processes while preventing expensive peak loads and keeping operating costs to a minimum by i.e. taking energy tariffs into account.  The hardware-agnostic software also enables prioritization of the vehicles to be charged. This ensures that all buses are ready to depart in due time in accordance with requirements.

The Mobility House will add detailed insights in Energy Management to the solutions offered by Sycada, whose online platform for operational excellence in transport supplies planners, traffic control, operations, and drivers with critical information with which to operate their fleets and charging infrastructure. The collaboration thus allows fleet operators to manage EV charging operations efficiently, locally, and in harmony with the grid.
Savings of several hundred thousand euros

Like the case with Connexxion, one of the largest electric bus fleets in Europe, the extremely high volume of visitors at Schiphol Airport means that on an average day Connexxion needs 10 MWh flow into the batteries of 100 buses. ChargePilot is so efficient that the company only uses and pays for about 20 percent of the 5 MW that are available from the power connection. Combined with the online platform and tools from Sycada this meant several hundred thousand euros in service charges were saved. 
ChargePilot from The Mobility House is now integrated in the Sycada platform. This was a logical step for Sycada CEO Kristian Winge, who explained: "Sycada is collecting and managing massive amounts of data from vehicles and chargers on behalf of our customers. It is great when this data can be used in a collaborative way to further lower the operational costs of zero emission operations. Our strategy is to partner with 'best of breed' partners in their fields and we are proud and pleased to work with The Mobility House to accelerate the decarbonization in transport". 

Jan Winkler, Senior Business Development Manager at The Mobility House, said of the new cooperation: "We are more than excited to partner up with Sycada. Our collaboration allows a smooth and easy operation of electric fleets – a crucial factor for every operator in the truck and bus segment when switching to electromobility. It is partnerships like these which will pave the way to a zero-emission future."

About 'The Mobility House'
The goal of The Mobility House is to shape an emission-free energy and mobility future. We integrate vehicle batteries into the power grid using intelligent charging and energy solutions. This way, we promote the development of renewable energies, stabilize the power grid, and make electric mobility more affordable. The technology company was founded in 2009 and operates globally from its sites in Munich, Zurich and Belmont (CA). We support our private and business customers on their way to electromobility through the planning and building process as well as the operation of an individual charging infrastructure. As a neutral supplier, we work together with many partners such as charging infrastructure manufacturers, installation companies, back-end system operators, energy suppliers and automobile manufacturers. Our intelligent Charging and Energy Management system ChargePilot and the underlying EV Aggregation Platform enable our customers and partners to integrate electric vehicles into the energy system in a way that is both beneficial and future-proof. For more information visit mobilityhouse.com.
About Sycada
Sycada is at the forefront of the transition to zero-emission transportation. We are committed to developing and implementing innovative technology solutions that help reduce the carbon footprint of transportation while maintaining high levels of efficiency and reliability. Sycada's zero-emission technology solutions are designed to meet the needs of a wide range of industries, including logistics, public transportation, and commercial fleets. Our solutions suite is OEM independent and includes live operations monitoring of vehicles and chargers, AI-based predictions and optimizations of fleet planning, charge point management and battery State-of-Health diagnostics. In addition, we help drivers adopt safe and energy efficient driving styles, leading to lower energy consumption and mileage extension to electric vehicles. Sycada operaties from offices in Amsterdam, Munich and Athens and serves enterprise clients in more than 15 different countries. 
Interested to share this story, find our press information here