Mindful Driving: 6 statements, 5 ambassadors and 1 conclusion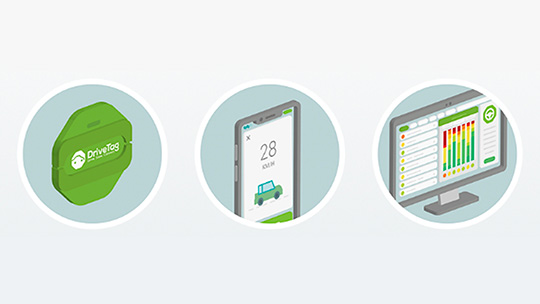 With DriveTag starting large scale production in China, our Mindful Driving program has shifted into high gear. The same goes for the number of experienced users avidly promoting Mindful Driving throughout the country. To make sure they lived up to their status as ambassadors, we presented five of them with six statements.
Using DriveTag has made me a more conscious driver.
DriveTag helps me drive more consciously in the long run.
Thanks to DriveTag I'm driving safer, and I arrive at my destination in a more relaxed state.
DriveTag is easy to take into use, which I find relatively important.
DriveTag helps promote more sustainable and/or safer driving within my company.
DriveTag's rollout in our company has a certain competitive element to it ("fun").
Jan van Noord, Cluster SHE Manager Benelux & Nordic with Unilever:
"With Unilever, following the Defensive Driving Training is mandatory. While doing so, I'm always complimented on my driving style. Using the DriveTag I've learned that I'm still regularly hitting the brakes too hard. When I'm presented with a 'red screen', it really bums me out! I'll spend the rest of my trip trying to improve my score. After a few months I actually noticed that I was driving in a more relaxed way. Because the system operates so easily, it makes it very easy to roll out. Games and incentives for each individual and/or group are an essential part of this process."
Bart Fick, Product Developer with Eneco eMobility:
"The DriveTag shows me my points of improvement in a way that doesn't agitate me. After a few months of using it, I got in a car once without a DriveTag. After a 'questionable' manoeuvre, I heard the subtle app notification go off in my head. At that moment I was convinced that awareness had struck! Experiencing is believing, Mindful Driving doesn't cost you any extra time, but instead brings you peace of mind. As a company, using DriveTag really eliminates any excuses you have for not driving in a sustainable and safe manner."
Ron Christiaanse, risk expert/prevention advisor car fleets with a national insurance company:
"I was already a conscious driver, but using the DriveTag, I'm confronted with any pitfalls I do have. Now I know these are braking too hard to take a turn or accelerating too hard when pulling into a street/pulling away from a traffic light. By checking my scores on a daily basis, and by using the app's real-time driving-mode, I'm becoming more precise with my handling. By anticipating better when I'm behind the wheel. I'm less stressed without it costing me any additional time. The app works easily and flawlessly. The use of telematics systems and monitoring driving behavior is fully supported throughout our organisation. And we're not afraid of a little competition while doing so."
Jeroen van Ritzer – van Dinther, Sustainability coordinator with Mobilis TBI:
"Using DriveTag, I have definitely become a more conscious driver. The notifications given by the device, combined with the competitive element, have had a positive influence on my driving behaviour. By anticipating more and driving in less of a rush, I get to my destination in a more relaxed mood. The times I do get frustrated are caused by external factors. It always bums me out when this reduces my score. Currently there's a trial going on with a select group of participants, who's emissions deviate from the norm. The board of directors and management have now signed up for such a trial on their own initiative. There's a lot of conversation going on regarding driving behaviour and this alone is already yielding a lot of valuable information."
Luuk van Kuik, Director Innovation Lab Terberg Business Mobility:
"Using the DriveTag I have become more aware of my driving. Without the Tag this doesn't seem to stick as much. DriveTag is an 'ongoing' thing which causes your driving style to naturally change over time. By trying to get a good score, I'm more focused on driving calmly which makes me less stressed about whatever is happening around me. On top of that it's easy to use!"