VodafoneZiggo achieves impressive results with DriveTag pilot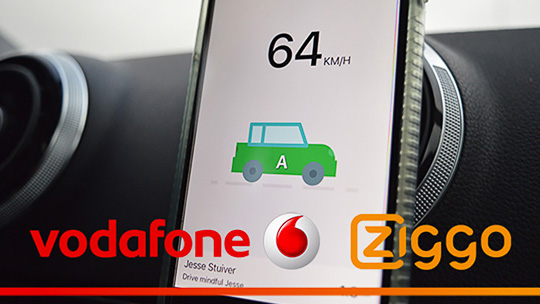 'Make the most of it now'. 'Power to you' and 'The future is exciting'. Do you recognise them? Using these respective slogans VodafoneZiggo has been spreading their telecom message for years now.
Coincidentally these are just as applicable to Sycada.Green's Mindful Driving-program. It almost seems like fate that VodafoneZiggo and Sycada have joined forces on the rocky road to a more sustainable future. Our DriveTag plays an important role in this collaboration.
Mo(u)rning Commute
The first slogan especially gets the message across by adding a subtle addition to it: 'Make the most of now and tomorrow!'. How? By equipping leasing vehicles with DriveTags and, by doing so, arming personnel against one of the biggest annoyances of the day: commuter traffic! After all, this guarantees a daily dosage of stress, accidents and pollution. All of these matters could be reduced to more manageable quantities by adjusting driving behaviour. VodafoneZiggo and Sycada set up a pilot together within the installation & maintenance department's management team, producing astonishing results. Driving style scores improved by an impressive 35%.
Savings up to 50% on fuel and CO2
One of the benefits this improved driving style offers is arriving to work in a much more relaxed mood. It's no surprise that over a total of roughly 80.000 driven miles, not a single accident and far fewer near-accidents were reported. All this was achieved by simply accelerating more gradually, breaking sooner, keeping a safer distance from other vehicles and fewer unnecessary lane switches. Participants in the pilot easily saved an average of 25% percent on fuel usage and CO2-emissions. A few even bordered on 50%! You can take a guess at the additional positive effects this has on the lifespan of tires and maintenance costs.
"O no, there goes my A!"
Evie Tissen now regularly sighs while behind the wheel. She' working as a Order Fulfillment Manager at VodafoneZiggo. Her jobs sees her doing a lot of driving. Each year she drives around 30.000 to 40.000 miles. "I was used to driving quite hastily, sometimes even aggressively.," she admits.
Sceptical
When she agreed to join the rest of the management team in Sycada's pilot earlier this year, she was quite sceptical. "I figured: sure, stick that little device on my windshield. However, having it actually affect my driving style…That seemed like a stretch to me.
Accompanying app
That little device, a DriveTag from Sycada, was indeed attached to the windshield of Tissen's lease car. She downloaded the app and after opening the app and attaching her phone to the accompanying car kit, she was on her way. "Mindful driving…" she whispered, with an unmistakable sense of irony in her tone.
From red to green
The screen of her phone showed a little red car. The faster she accelerated and the more often she braked, the more red the little car became. But when she was driving calm and controlled…The little car went to orange first and then on to green. "Yeah, I guess it's kind of strange, but for some reason you start trying to turn the car green and keep it green," Tissen laughingly says. "And that only works if you constantly get A's while you're driving. That's the most sustainable driving style. I've noticed that I've become more relaxed when I'm behind the wheel. Except for when an aggressive driver forces me to slam the brakes. That'll cost me my A score which can really bum me out."
Remi van Dam, Manager External Field Operations VodafoneZiggo:
Mindful relaxes me!
"The tag started for me with the idea that 'a healthier environment starts with yourself.' Next to the impressive sustainable driving results, the tag (and app) have especially made me a lot calmer in traffic. Awareness, accelerating more gradually, keeping a safer distance and you just can't tick me off. I want to get my A and compete in the rankings. What I appreciate is that I also get the chance to make the Dutch roads a bit safer by anonymously pointing out parts that are unsafe to municipalities and counties.
What's stopping you from following the example set by VodafoneZiggo by joining up with your organisation and increasing the safety of your employees and other road users while simultaneously reducing costs and CO2-emissions? Contact us and we will get you – both figuratively and literally – safely on your way!
Peeked your interest? Read about VodafoneZiggo's own case study on mindful driving here.